Electrolytic Metal Marking Machine
X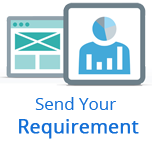 Features & Specifications :

User friendly application

Electrochemical Etching/ Marking Laser
Require 230 V AC Power
Electric protection against short circuits
Give Sharp Black Mark within second
Suitable for manual marking
Marking Depth Controller (MDC)
Suitable for any type of metal marking application
It is widely used in all Metal Industries like Aerospace, Tools, Cutter, Slip Gauges and all other metal industries.
MARKINDIA MARKING SYSTEMS
Main Address: 33/34, Dashan Vihar, Near Deshmukh Hospital, Devlai Chowk, Beed Bypass Road, Aurangabad - 431005, Maharashtra, India
Mr. Dhiraj M. Purnekar (Proprietor)
Factory Address: Plot No. D-3, Shendra Five Star MIDC, Aurangabad (M.S.), India




Buyers Helpdesk

Let tradeindia.com find Quality Suppliers for you!

Mark India Marking Systems All Rights Reserved.